San Mateo Dog Training Club
Kathy Blink has been teaching conformation handling skills to people in the Bay Area for over 20 years. Kathy is an extremely popular instructor, with an upbeat and fun style sure to bring out the best in you and your dog. Kathy has handled her own champion Dalmatians in both the breed and performance rings and is well-known in the world of purebred dogs.
Cathy has trained a variety of dogs over the past 20 years and has learned from each dog. She realized early on that training techniques need to be adjusted to the individual dog and handler team. When she meets a new class, she tries to evaluate each individual team so she can help them improve. She enjoys watching the progress and cheering the success that comes from the hard work that is put into the training. At this moment she is training a Sheltie, English Cocker and Papillon and goes through the same trial and error in my training as do the students in class.
"Each dog has their individual challenges and this keeps me thinking of ways to improve their performances."
She tries to attend as many training seminars as she can so she can bring the information back to her classes. She became an Obedience Judge 13 years ago and has enjoyed this immensely. When Rally was introduced, she applied to judge that as well and has been approved for all levels.
Marian Pott has been training dogs competitively in various performance sports for over 25 years, including obedience, herding, scent tracking, rally, and lure coursing. She has done therapy dog work and Canine Good Citizen training. She has also been involved in greyhound rescue and rehab since 1995. She is a motivational trainer and loves working with people and their dogs of all breeds and mixes and ages, always with the goal of making you a better leader and your dog a better companion. Also since 1995, Marian has trained and competed in herding with her own German Shepherds and Border Collie, and has trained and handled other herding dogs representing a wide variety of breeds. She is an all-breed herding dog trainer and an AKC and AHBA herding judge. She focuses on training methods which bring out the best in your leadership and your dog's natural talents.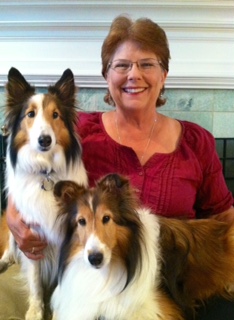 Reena Walton has been teaching dog obedience classes on the peninsula for 21 years. She has taught for a variety of organizations during that time, including San Bruno Dog Obedience School and Dog Days as well as Skyline Dog Fanciers and Belmont Parks and Recreation, and several other locations. She has been a Professional member of the Association of Pet Dog Trainers for many years. She has owned a variety of breeds, but is especially fond of Shetland Sheepdogs and has had 4 Shelties over the years.
Currently she has a mother- daughter team of Shelties, "Mariah" CH Hillstone They Call The Wind CDX, RN, AX, AXJ, and her daughter "Libby" Rubicon Liberty Belle CD, RN, OA, OAJ. She competes with her shelties in obedience trials, rally trials, agility trials, and has many titles on them, as well as past dogs.
She also has participated in pet assisted therapy with 3 dogs and was a Delta Society Pet Partners and Therapy Dogs Incorporated member. She was also an evaluator for Therapy Dogs, Inc. She is an AKC Canine Good Citizen evaluator, and specializes in puppy education classes. Reena has attended many dog training seminars and workshops over the years, and keeps current on new methods of training dogs.
Harriet Tucker has been training and competing with her Brittanys in Obedience since 1996, and in Rally since its inception.  She is a member of 3 Obedience clubs: San Mateo DTC, Oakland DTC and Vallejo DTC, and currently teaches Obedience and/or Rally for all 3 of these clubs.  She is also a member of her local breed club, the Northern California Brittany Club.  She loves teaching and helping others to achieve their goals, no matter what the discipline.